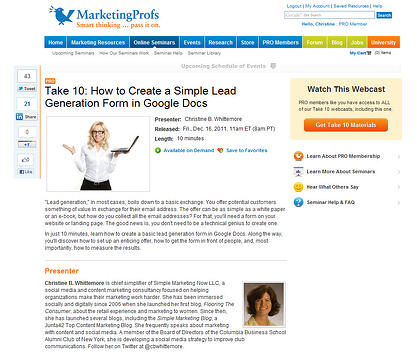 Would you like to learn about creating simple lead generation forms? If yes, I invite you to watch my two recent MarketingProfs Take 10 webcasts:
Are you familiar with MarketingProfs' Take 10 webcast series? I love these very focused, information packed 10 minute how-to online sessions [another great benefit of being a MarketingProfs member!]. As MarketingProfs describes them, "in just 10 minutes, each Take 10 webcast features step-by-step instructions on a narrow topic. Packed with takeaways, every episode comes with a handy one-page checklist, so there's no need to take notes."

The idea for a Take 10 that focuses on creating simple lead generation forms came out of my MarketingProfs B2B Forum 2011 presentation about Generating Leads With Social Media. My research suggested that many business people don't understand what role a lead generation form plays in getting more leads. Forget about suggesting a sophisticated solution such as Hubspot, they need to explore and experiment with creating a very simple lead generation form first to understand the bigger picture of lead generation and lead nurturing...
The description for Creating a Simple Lead Generation Form with Google Docs reads, ""Lead generation," in most cases, boils down to a basic exchange: You offer potential customers something of value in exchange for their email address. The offer can be as simple as a white paper or an e-book, but how do you collect all the email addresses? For that, you'll need a form on your website or landing page. The good news is, you don't need to be a technical genius to create one. In just 10 minutes, learn how to create a basic lead generation form in Google Docs. Along the way, you'll discover how to set up an enticing offer, how to get the form in front of people, and, most importantly, how to measure the results."
For more sophistication, and complexity, learn how to Create a Lead Generation Form with MailChimp.
I hope you have a chance to watch both of these Take 10 webcasts. If you do, I'd love to hear your reactions and observations. What did you think about creating these simple lead generation forms? Can you see using them on your website to connect with visitors?