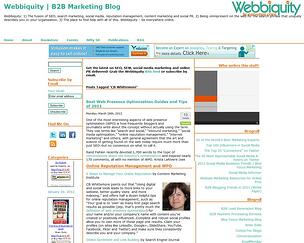 If you're looking for an overview of the Best of 2011 Digital Visibility Advice, I recommend that you visit Webbiquity's Best Web Presence Optimization Guides and Tips of 2011.
Not only does it include valuable references on a topic that affects business people and marketers from multiple perspectives - i.e., how to get found online, but I was thrilled to pieces to discover it also includes reference to an article I wrote for Content Marketing Institute!
Webbiquity's article includes valuable commentary of each of guides and tips listed. Pay attention, too, to the article's opening comments about 'web presence optimization' [which coincides with the blog's premise:
Here are the resources included which I plan to check out...