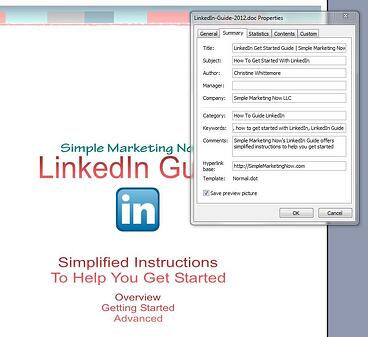 An often overlooked aspect of seach engine optimization and getting found online has to do with the documents - PDF and Word - that we share with visitors online. Have you optimized yours?
Given that I'm often guilty of forgetting, I thought - to remind myself - I would share with you my document search engine optimization tips...
Optimizing Word Documents for Search
1. Remember to use unique and descriptive keywords in your document's file name. If that's all a visitor has to go on, does that filename carry enough context to get someone to open the document?
2. View your document's "properties" by clicking on File/Properties. Fill in the title with keyword first, the subject, relevant keywords and some comments.
Sadly, the data you've added to your Word document properties may not transfer to the PDF version of your document...
Optimizing PDF Documents for Search
1. As with your Word document, remember to use descriptive keywords in the filename of your PDF document. These should be words that visitors would recognize and use in a search.
2. Check your document's "properties" again by clicking on File/Properties. Fill in the information. Remember to place your more critical and relevant keyword first in the title.
Other Search Engine Optimization Tips
Don't forget to give your images some search engine optimization TLC! Create memorable, keyword rich filenames and <alt> tags that similarly describe the image. Do use industry jargon - unless that's what your customer base recognizes and searches on.
You might find this article helpul, too: How to Optimize PDF Documents for Search. Note the recommendation to add your company name in the author field.
Have you optimized the Word and PDF documents you offer on your site? What have you found works best? What system have you implemented to remember to do so? What success stories do you have based on having optimized a document for search engines?