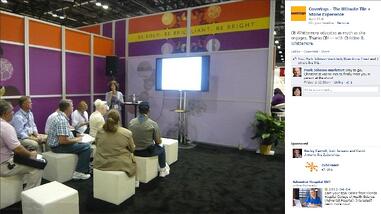 Coverings 2012 introduced a fabulous educational, social and interactive concept to the show: Coverings Central which took place on the show floor.
Coverings Central included a section where you could get your photo taken to promote Coverings 2013.
Another section featured laptops for a quick Internet fix - which we commandeered for #KBTribeChat on 4/18.
A third section was great for daily Coverings Happy Hour socializing.
The fourth section, pictured above, made for intimate 15 minute educational sessions.
My Coverings Central educational session took place on Wednesday 4/18/12 at 1pm. The presentation was titled What Makes for an Effective Online Presence and offered a short overview of my Friday two hour session. [I also inaugurated my very nifty 2Screens iPad app and successfully used miPhone as remote control device. Lovely!]
Here's the presentation, in case you are curious:
If you go to the end of the presentation, you'll notice a link [and QR code] which will take you to a
Coverings 2012 landing page
where you can download [after entering your email address] resources, including my
Digital Visibility Tip sheet
, that I referred to in my short and long presentations.
Let me know what you think. My Coverings Central presentation attendees told me that I had helped them make sense of online marketing.
I hope it's the same for you!