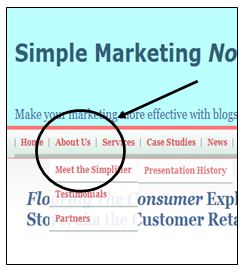 One of my very favorite website pages is the '
About Us
' page. It is the page or section I gravitate towards whenever I visit a new website. Not just to evaluate the website, but also to get a sense for the business behind the website and whether it
embraces the principles of inbound marketing
.
I do the same when I visit a blog, by the way. The 'About Us' section is how I determine whether the blog is for real; whether a caring, interested, committed professional is behind the blog instead of a fake...
Shelley Ryan brings to life what her company Killer Webinars can do in her About Us page. You get an immediate sense for her sense of humor, her creativity and her extensive knowledge of webinars based on the music clips, written content and photo included. This is NOT a 'canned' company description!
I like seeing not only contact information [i.e., individual email addresses], but sources of additional information about people including links to LinkedIn profiles.
Transforming your 'About Us' page from a boring necessity page to one that truly celebrates what makes your organization stand out - as in "
if you've got it, flaunt it
" - takes some practice. However, when you think how many people start the buying process online, searching and interacting with your website content, doesn't it make sense to get started? Make use of 'About Us' to offer visitors an opportunity to experience your organization and its personality.
Once you've started, I bet you will have difficulty going back.
Which are your favorite 'About Us' examples? What did you like most about them?