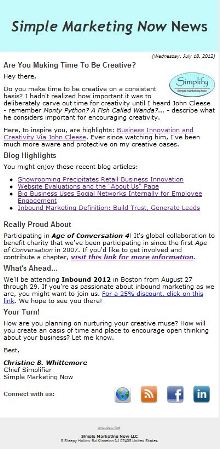 Simple Marketing Now's July newsletter has just been published. I invite you to check it out.
The July newsletter focuses on creativity and making time for it.
Friend and newsletter subscriber,
Tim Girvin
, shared this link to his thoughts about the creative meditation. Titled "
What I have Learned in One Day
," it is visually inspiring and soothing to the soul, an oasis of calm where ideas can flow.
I love the notion of "a discovering."
Let me know your reactions to the July newsletter.
Thanks for reading!
Best,
C.B.