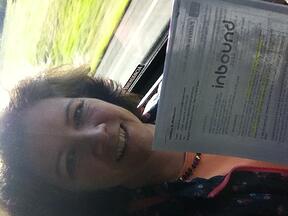 That's me on BOLT Bus in anticipation of INBOUND 2012 taking place this week in Boston. I'm expecting an intense week, filled with inbound marketing insights, new knowledge and connections.
First, a full day of hands-on inbound marketing training with HubSpot.
I'm participating in two advanced certification courses:
• Content creation and optimization to Grow the Top of Your Marketing and Sales Funnel
• Lead and revenue generation for Optimizing the Middle of Your Marketing and Sales Funnel.
Both sessions require –naturally- using HubSpot's integrated email marketing, lead nurturing, marketing automation and lead intelligence software. Although I spend a great deal of time doing inbound marketing with HubSpot, I can't wait for these hands-on sessions and learning new tricks and tips!
Then, 2.5 days of inbound marketing best practices, case studies and inspiration about how to get found online, generate leads, connect with customers and supporters, as well as analyze patterns, create remarkable content and generally stand out for creating true value for customers…
I'm really excited about hearing David Meerman Scott speak. He is the author of The New Rules of Marketing and PR – and one of my marketing heroes… I hope to meet him as well as Peter Kim, who included me back in 2007 in the Top Marketers Blog, the M20 list of corporate bloggers.
I'm sure Gary Vaynerchuk will have us thinking.
And I can't wait to see wonderful Ann Handley from MarketingProfs and co-author of Content Rules! [see Content and Content Marketing: What is it?]...
You can be sure that there will be more. This is my second INBOUND and last year was packed with perspectives [see Connecting With Customers: Guy Kawasaki vs. Gary Vaynerchuk and Switch, Climbing Out, Social Media and Change: Bathroom Blogfest 2011] including those from the business people I met and hope to see again this week.
In the meantime, know that I'm busy absorbing as much inbound marketing practical knowledge as I can to share back with you.
Are you ready?