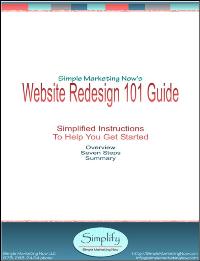 Have you been thinking about redesigning your website? It's an important consideration when you realize that the entire notion of a business website has radically changed.
A website used to be the equivalent of an online brochure that was perhaps updated every few years. Now, the best websites have evolved into living, breathing digital entities that ideally get refreshed – with new links and articles – on a frequent basis. Frequent, as in weekly or daily…
Why? Because frequent and regular updates drive traffic and reflect your commitment to your area of expertise and to helping potential customers navigate through the purchase process!
Your website is a critical business asset which should support your business objectives.
The topic of website redesign is universal. And, although the notion of a redesign ranges from complete overhaul to more gradual, the thought-process is consistent.
If you're thinking about a website redesign, please check out my guide. I would love to get your feedback. Let me know what you find most valuable.
To download the guide, click on the button below.