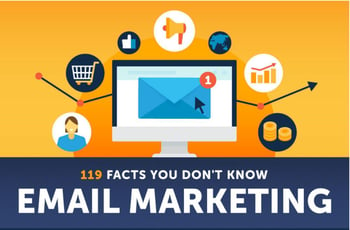 If you're a business marketer and wondering about email marketing best practices, here are 119 facts worth exploring captured in an infographic.
Email remains particularly effective. Yes, that's right. Email hasn't disappeared and isn't about to. Think of all the applications and social networks which depend on email for verification, interaction [think notifications] and even as reminders to return to individual networks.
From a business perspective, emails are the most valuable customer asset available - when obtained legitimately and respected - for engagement, loyalty, relationship building and even sales.
Did you know that consumers who make purchases through marketing emails wind up spending 138% more than those who don't receive email offers?
Why Email isn't Dead
Per "119 Facts You Don't Know About Email Marketing" (see Infographic below), 77% of consumers prefer receiving email for marketing communications and 85% of retailers consider email to be their most effective tool for acquiring new customers. 64% of decision-makers depend on email. Not only is email three times more likely to convert than social media, but with the ubiquity of mobile devices, you can read emails at any time and place and at your convenience. And plenty do: 91% of internet users check email at least once a day on mobile.
Although email is particularly effective for retailers, it's equally valuable for other type businesses: 89% of marketers say that email is their primary source for lead generation.
In other words, email is here to stay. Given my previous post titled Top Tips for Avoiding Spam Filters or How To Make it to the Inbox, it's time to explore these email facts in more detail to determine how to successfully get more business using email.
Email Marketing Stats and Trends
You'll find plenty of interesting stats and best practices in the infographic below. (Hat tip to MarketingProfs for highlighting the data.) Here are ones that looked particularly interesting:
The biggest email marketing trends in 2017 (interactive emails, big data personalization, html5 videos in emails, automated emails, omnichannel and encryption)
Check out a table comparing open rate, click rate, and conversion rate data for newsletters, order followup, inactive customer, abandoned cart and member followup
The most used techniques include: email automation, personalization, advanced segmentation, broadcast timing based on location, basic profile-based targeting, lead scoring, responsive email design (device detection) and social media integration
What your email recipient tends to prefer
From a persuasive email marketing perspective, this infographic includes valuable insights:
Emails with 6-10 words in the subject line see the highest open rate (21%).
Open rates for emails with movie titles or song lyrics in subject line increased by 26.2%.
Red links drew 52% more clicks than blue links.
Millennials want to see 39% fewer emails and 32% fewer repetitive emails from brands (me, too).
Including a call to action button instead of a link can increase conversion rates by as much as 28%. (Why not include both?)
Email best practice: personalization
Personalization ranks high when it comes to persuasion and generating email results:
Personalized subject lines result in a 26% higher open rate.
Using the person's first name in the subject line increases the chance of the email being opened by 14.68%.
Personalized emails improve the click-through-rate by 14% and conversion rates by 10%.
Only send emails that your recipient will consider relevant. This is your opportunity to truly write a persuasive email that sets the stage for further interactions and, ideally, a long relationship.
Email best practice: segmentation
Segmented lists perform well. They generate:
39% higher open rates.
28% lower unsubscribe rates
24% better deliverability
And more revenue.
The better you can segment your list, the more you can customize your email message and increase its relevance.
What about email send time and day?
Picking the day and time of your email send matters because emails have the best chance of being opened within one hour of reaching the inbox. Which day and time, though, depends on the dynamics of your own list.
If you don't have data, try Monday, Tuesday, and Wednesday. Monitor what happens and then adapt what you learn to your own dynamics.
Think about your customer personas, what you know about their lives and your industry.
Note that some email tools will suggest best times (e.g., MailChimp).
Mobile and email
Email read on mobile devices accounts for 15 to 70% email opens depending on your industry, audience, product and email type.
55% of email is opened on a mobile device
91% of internet users check email on mobile devices at least once per day
Replies sent from mobile devices are 54% faster than those sent from desktops
What about email spam?
21% of email recipients report email as spam even if they know it isn't
43% of recipients click the spam button based on the email name or address
69% report email as spam based on the subject line
And email unsubscription
The average unsubscribe rate is .25%.
66% of unsubcribes happen between 5 pm and 10 pm.
78% of consumers have unsubscribed because a brand was sending them too much email.
52.9% never 'opt down' or change email frequency or type after unsubscribing.
35.4% unsubscribe because emails were sent too frequently.
Their reasons for unsubscribing include:
Relevancy 24.5%
Received too frequently 35.5%
Inbox is overbloated 23.5%
Tired of the brand 13.5%
So, don't overdo it [read How Not To Get More Business: 7 eMail Retail Experience Horrors! for ideas].
Another fact to keep in mind: 30% of your subscribers to your list change their emails on a yearly basis. What that means is that if you have a list of 100 names, after one year only 70 of them will be valid.
Email automation stats
82% of B2B and B2C companies use email automation
B2C companies who have leverage email automation have seen conversion rates as high as 50%
Automated email messages average 70.5% higher open rates and 152% higher click-through-rates than regular emails.
Perspective on email engagement
You are 6x more likely to get a click-through from an email campaign than from a tweet
72% of people prefer to receive promotional content through email compared to 17% who prefer social media
A message is five times more likely to be seen in email rather than Facebook
This infographic ends with several case studies on:
Behavioral segmentation
Personalization
Target audience
Offers and discounts
Adding visuals
CTAs
Others
Definitely a goldmine of facts and stats about email!
In terms of big picture takeaways about using email for your marketing communications:
Segment your list,

Send messages regularly - but not too often - and,

Make sure your message is relevant!
What will you do differently when you next use email as part of your marketing?
What do you think of these email stats? Do they inspire you to do more with your marketing? What might you try first?
Thanks for reading!
This article was originally published on Sept 12, 2012 and has been updated.