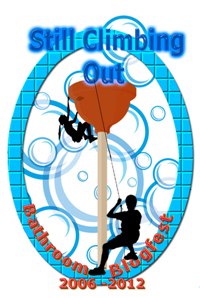 Bathroom Blogfest 2012 is right around the corner. Are you in?
This year's event celebrates the theme "Still Climbing Out," building on last year's "Climbing Out" theme.
Bathroom Blogfest takes place the last week in October - this year from Monday, October 29 through Friday, November 2, 2012.
It's like no other social event that we've encountered in that it takes place yearly and has done so since 2006. In digital marketing time, that's since forever! It also brings together bloggers with diverse interests and areas of focus...
Bathroom Blogfest celebrates the customer experience across a wide range of perspectives, using the tools of social media.
When we first started out, only blogs were involved. Since then, Bathroom Blogfest has expanded on the web via Bathroom Blogfest as well as Facebook with Bathroom Blogfest Fan Page and Twitter BathroomBlogfes via the hashtag #BathroomEXP. We anticipate the event expanding to Pinterest, too.
We've also been invited to take part once again in the best Twitter Chat happening: #kbtribechat on Wednesday, October 31 at 2pm EST! [Here are highlights from last year's Bathroom Blogfest Twitter Chat: #kbtribechat.]
I hope all of this is making you realize that you don't want to miss Bathroom Blogfest 2012!
Here's how to participate:
Be ready to publish at least one blog article during Bathroom Blogfest week; include the logo and mention fellow Bathroom Blogfest participants.
Support the #BathroomEXP conversation on Twitter, Facebook, Blogs, LinkedIn, Pinterest and whereever else you share your passion for the customer experience.
Participate in #kbtribechat on 10/31
We hope you in for Bathroom Blogfest 2012!
P.S.: Please help us get the word out. Thank you.