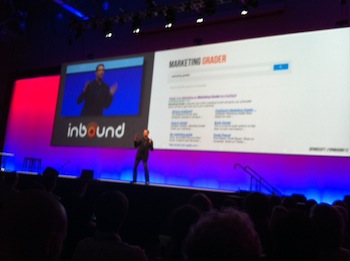 When I reported on INBOUND 12 in What's New from INBOUND 12: HubSpot 3, Inbound Marketing Wisdom, I promised you some David Meerman Scott content and inbound marketing wisdom. Here 'tis!
What's particularly wonderful about David Meerman Scott is how he weaves his love of live music and knowledge of musicians into his presentation. It's no surprise that he wrote a book with Brian Halligan about Marketing Lessons From the Grateful Dead].
During his Inbound 12 keynote presentation, David illustrated the value of inbound marketing and content. His premise is that, just as HubSpot has created tools such as the free Marketing Grader to create awareness and generate attention (and leads), so too can we by creating content so valuable for our fans (or prospective customers) that they come to us and help us tell our story.
[This is the same premise that David develops in his book The New Rules of Marketing and PR- for perspective on how that affects creating and regularly publishing news via press releases, read The Humble News or Press Release].
Rather than buying our way in/getting attention via advertising or begging our way in with the media or bugging people with sales messages, we now have the opportunity to create attention with inbound marketing by publishing fantastic information and sharing it via social networks to get found online. In other words, banish the old ways of doing marketing and embrace inbound marketing; create truly remarkable and useful content to develop a fan and customer base.
David shared the Inbound Marketing example of Musician Amanda Palmer who creates amazing content to drive people to her business. She has created a forum for her fans via her blog, as well as content on Twitter and Facebook. Her fans are so engaged that they post artwork. She used Kickstarter to get started and get her record.
David Meerman Scott then described 4 types of inbound marketing:
1. Horizontal Inbound Marketing
Think broad and thin as when you search on a marketing category. For example, if you search 'Indie music concerts' on google, you'll find The Avett Brothers on Boston.com.
2. Vertical Inbound Marketing
Think very specific and deep as in a long tail search with terms so specific that the results are few, but hugely relevant. For example, if you search on 'gathering of the vibes music festival. STS9' or 'STS9 tour', you'll immediately find a relevant web site.
3. Real-time Inbound Marketing
This is David's favorite. It refers to developments in real-time, as they happen. Twitter is one aspect of that. David considers 'real-time' a fundamental change in marketing.
Consider a bond trader in NYC who requires instant information to do his job. Those same dynamics are going on in our business. Too many organizations are focused on operating in campaign mode, taking past data to project into the future, when the marketplace has transitioned to an ongoing environment which operates in the present. They miss out on real-time marketing.
For example, consider News Jacking which is about following a news story and anticipating when journalists will cover it. You can come up with a news story without waiting for journalists.
Another aspect of real time marketing is getting rid of fake happy people on company websites. Don't use stock photos to represent employees and clients. Use real employees. Hotel websites are all impersonal, cold and devoid of real people. Rather than be identical to the competition, figure out how to make it personal for buyers. Speak to them in their language; show real people on your website.
Figure out how to free your content. The Grateful Dead allowed fans to record music. They gave fans the best seats for recording when other bands said no recording, no cameras. Free content allows fans to get into the content and engage with it; that engagement helps to sell tickets to concerts. That's what the Grateful Dead did.
The old rules focus on static measures such as press clips. What content can you create that is totally free? Can you address the new ways buyers use to solve problems as mailermailer does with its email marketing metrics report which drives their business?
[For more perspective on real-time inbound marketing, see Real-Time Marketing & Bathroom Blogfest 2010.]
4. Location-based inbound marketing.
Think how your specific location can become a marketing magnet. Create marketing that people engage with because of its specific location - especially given how many people own mobile phones [more so than own toothbrushes = 4b phones vs. 3.5b toothbrushes]. Apps such as Sit or Squat are not only location based, but also crowd sourced with visitors helping others to locate and evaluate toilet options. Considerations include: how mobile friendly is your website and how can you make use of location to help customers.
Thanks, David for so many inbound marketing sources of inspiration!
What's your reaction to David Meerman Scott talking content and inbound marketing? Does it inspire you to try new approaches? What might you do first?