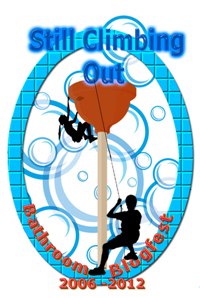 Are you ready for Bathroom Blogfest 2012? It's taking place next week, October 29 through November 2nd, and celebrates the customer experience! The theme is "still climbing out!"
Here are the official details from the press release - see Bathroom Blogfest 2012 Highlights Customer Experience With Focus on 'Still Climbing Out'.
This year #KBTribechat will focus on "elements of bathroom design that can provide a safe, soothing and supportive environment to support people fighting this disease."
For those of you who aren't familiar with #KBTribechat, it takes place every Wednesday from 2:00pm to 3:00pm EST, live on Twitter, with Kitchen & Bath industry companies and professionals who explore a different topic each week. Topics range from Kitchen & Bath industry trends, advice on how to run a small to medium sized business, design trends, the relevance of green, etc...
If you've never participating in a Twitter chat, this one is for you! #kbtribechat works as a guided discussion. The @KBTribeChat moderator asks questions prefaced with "Q1:". Participants respond with "A1:" and the hashtag #kbtribechat. Anyone interested can follow along and provide insights, experiences, and answers.
To participate in #kbtribechat, search on #kbtribechat in Twitter or your favorite Twitter client or TweetChat.
Special thanks to #kbtribechat founders @hafeleamerica and @cabinetmakers.
I hope you'll consider joining in on #kbtribechat as well as Bathroom Blogfest. Do check out the bloggers listed below who are participating in Bathroom Blogfest 2012: Still Climbing Out! and visit BathroomBlogfest.com.
Basic details:
Bathroom Blogfest 2012 Participants
Happy Bathroom Blogfest 2012!
Best,
C.B.