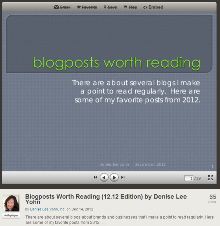 I confess. 2012 was a blur. I had trouble keeping up with the marketing brilliance and goodness that many I admire shared. For that reason, I'm grateful to Denise Lee Yohn - whom I got to meet in person during BRITE 2011. She has created a list of blogposts worth reading from 2012!
Denise is intensely focused on the brand experience, the customer experience and helping companies bring those two together seamlessly. [Here's a project Denise and I collaborated on re: the customer retail experience. See Trader Joe's Where Less is More: Brand As Business Bites Guest Post and REI Makes Choosing Easy By Denise Lee Yohn.]
Denise captured what I consider intense marketing goodness from 17 blogs she reads regularly. Her Slideshare presentation is titled Blogposts Worth Reading (12.12 Edition) by Denise Lee Yohn It's filled with wisdom guaranteed to inspire your marketing in 2013!
[Disclaimer - Denise has included me in this list; I'm thrilled to pieces!]
By Becky Lang, writing on the Zeus Jones, Politeness Theory and the Millennial Style of Customer Service.
By Tom Asacker, writing on A Clear Eye, If You Want People to Think You're Funny, Don't Tell Them You're Funny, Tell Them a Joke You've Probably Heard.
Do check out Denise' presentation. She includes a quote from each highlighted blog article, succinctly capturing intense inspiration you'll enjoy for 2013.
Thanks, Denise, for sharing these great brand marketing resources and for including me.