At Surfaces 2013, Sarah Kelly and I teamed up for the second year to discuss social media and how to apply it to business. We had a blast!
At the end of it all, Dave Foster from TalkFloor found us and asked us a few questions.
The result is a 15:50 minute video titled "Whittemore & Kelly on Social Media, How-To for Business".
Here is Dave Foster's description of the interview:
Christine Whittemore, Simple Marketing Now and Sarah Kelly, Marketing Department from Surfaces 2013 discuss the seminar they led during the show's educational program entitled: Social Media, How-To for Business.
As always with Dave, we had fun responding to his questions! Here's a recap of the questions I enjoyed most.
What about managing time? How can a business owner find the time to do social media?
If social media is integrated with the overall business strategy, it will be much easier for a business owner to prioritize and find time for social media.
Success with social media - and all online tools, including a company website - has to do with understanding customers and how you provide them with value. If you understand that, you'll be able to create a content strategy that will make participating online and in social networks much easier.
Start with the basics: understand what your business is about. Realize that your online presence is the equivalent of your physical store or office presence. Think about what you tell people in real life; how do you guide them through the purchase process? What questions do you need to answer? How do you educate them about your product category, your business and the solution you offer to their problems. That's what you'll want to do online.
Consider involving the entire organization. You have many people talking to customers; get them involved. Find out what are the questions that are being asked?
What's the greatest benefit for a business to get involved with social media?
If you're involved in social media, you have a greater opportunity to get found in online search. That's a great motivator! The more active you are online - updating your website, publishing blog articles, participating in social networks - the more likely you are to show up online in searches when people begin the purchase process researching solutions to their problems.
Consider your online presence a business asset and make the most of it. After all, people start the purchase process online even if they purchase in-store.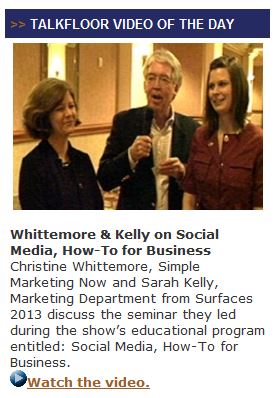 If you think of your online assets and how they support your offline business assets, you'll spend time thinking how to strengthen both.
The more aware you are of your customers, where they are in the buying cycle, and what words they use to describe the issues they face (aka their 'pain points'), the better you'll be able to proactively create content that you can use online. You'll also find that what you create online will end up being incredibly useful offline - for email follow up communications with prospective customers, for example.
When it comes to social media networks, you'll find it's valuable to do lots of listening so you can insert yourself in a conversation in a natural way.
Remember that not all social networks are created the same. You'll notice - if you're paying attention and listening - that each is different. Even if the topic is the same, you'll notive different conversations depending on where you are. For that reason, rather than automate across networks, you'll want to customize the voice and the content per network. It's not too different from IRL (in real life). You speak differently in grocery store compared to a department store, or a McDonald's compared to a fancy restaurant.
As you listen and observe prospective customers, you'll notice that many may use smartphones to research, shop and do social networking. Is it all shopping? Probably not. It may just be about social inteacting with friends. Respect that and figure out how to become part of the social conversations without selling all of the time.
Always step back and think about the customer: what value do you offer him or her? How are you different from the other options s/he has? Use social and online tools to express how much you care and how you are different from your competition.
Remember that social tools can be used in a traditional way. The power of social media for business comes from using them to connect on a personal level with, build relationships with, and figure out how to help answer questions for customers. Do that rather than worry just how many followers you have.
Where is social media for business headed?
Networks like Pinterest and the increased focus on images in Facebook and Google+, even Twitter, suggests that there's an evolution toward more visual content happening in social networks. Visual content is often easier to consume.
With the overall increase in content, it will be really important to ensure that content remains relevant to prospective customers. We don't want to overwhelm them with useless information and lose them!
There will definitely be new social networks developing, and it's important to keep up. At the same time, it's important to understand where customers spend their time so you can focus on the right networks.
Thank you, Dave!
What questions do you have about social media for business? Let me know in the comments!