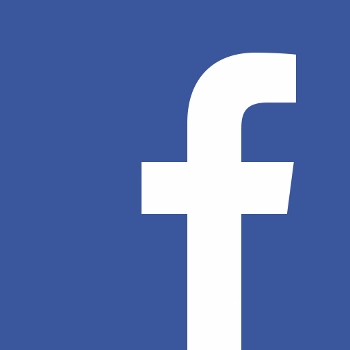 Chances are, your business is using Facebook to connect with customers. If that's the case, are you also using Facebook ads?
Facebook: a big source of potential customers
Facebook is big. How big? According to By the Numbers: 105 Amazing Facebook User Statistics,
..1.28 billion Facebook Users
..1.23 billion active monthly users
..1.28 million daily active users in the US (or ~39 million per month)
..the average Facebook visit lasts 20 minutes
Facebook is also big in terms of how familiar many business people are with the social network.
If they are familiar with Facebook as individual users, they will often extend their presence to include a Facebook Fan Page for their business. (When I ask Surfaces attendees about their preferred personal and business social networks, they mention personal comfort level with Facebook plays a big role in developing a business presence there.)
Facebook's massive size and impressive stats (see The Top 20 Valuable Facebook Statistics) mean that it is the closest social media equivalent to mass media (i.e., network TV which attracted ~22 million viewers to the evening news in 2012).
With Facebook now a publicly traded company and needing to deliver consistent financial results, it is successfully positioning itself as a mass means of reaching buyers effectively and efficiently. The added benefit of Facebook ads compared to traditional advertising is that you can now reach potential customers for much less than traditional commercials during a TV program, get more information and may even engage them into interacting with your business.
At the same time, Facebook has gradually diminished the visibility of fan page updates that organically appear in fans' newsfeeds.
With the evolution of Facebook into a commercial social network, now's the time to seriously consider Facebook ads as part of your Facebook Fan Page marketing. Otherwise, your chances of being seen by potential customers and connecting with them are slim.
Ready to try Facebook Ads?
What's exciting about Facebook becoming a pay-to-play environment is that you can obtain faster results to experiments on Facebook. For as little as $5, you can quickly test whether the images you so painstakingly upload resonate and whether the updates you share are of interest to your fans. What that means is you can become more efficient with the work you put into managing your Facebook Fan page so it delivers results for your business.
You'll find two Facebook ad types to experiment with:
1. Promote your Facebook Fan page for more likes
2. Promote individual updates (i.e., boost them)
Get more Facebook page likes!
The image below shows you the first type of ad to promote your Facebook Page. This represents an opportunity to reach out beyond your immediate circle of friends, connections and existing fans to people who may know nothing about your business.
When you pay to get more page likes, your ad will appear with your company logo and some basic information as you see for Simple Marketing Now below. It will show up in the sidebar of the newsfeed (which BTW is where all the Facebook action happens) with the label "Recommended Pages".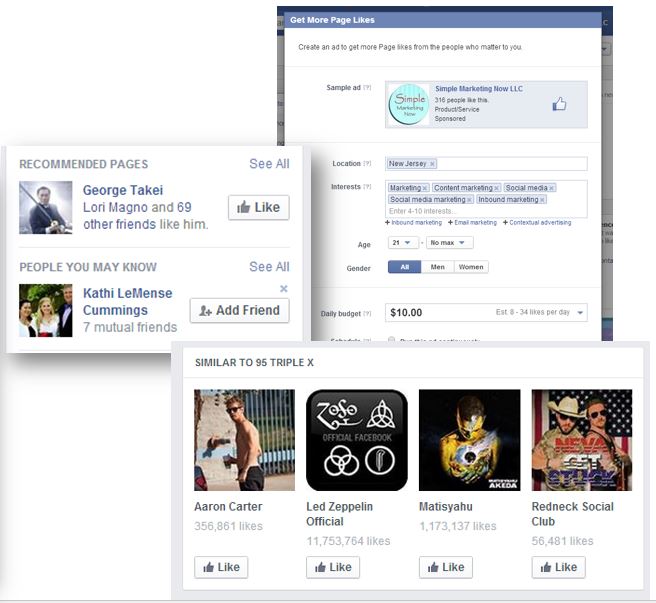 When you are getting started, start with the lowest possible budget ($5) for a short period of time so you can observe the dynamics.
You'll also want to be specific in your choice of location and interests for your ad. Do you want the entire world to see the ad or specifically people who live in your city or county or state because they will actually shop your store? Do you want unqualified interests or only people interested in home remodeling or healthcare or digital marketing because they are more likely to perceive you as relevant?
The more specific you are, the better your Facebook ads will perform, the more quality information you'll receive from ad performance, and the more likely your investment will generate results for your business.
Boost your Facebook posts!
In addition to getting more likes for your Facebook Fan page, you'll want to promote your updates to your new and current fans, to their friends and even beyond, as you would promote getting more likes.
When you boost your post, it appears within the newsfeed of fans and prospective fans, interspersed with regular updates. You'll notice the label 'sponsored' on the post.
Below, you'll see an example of the post boosting interface on Facebook.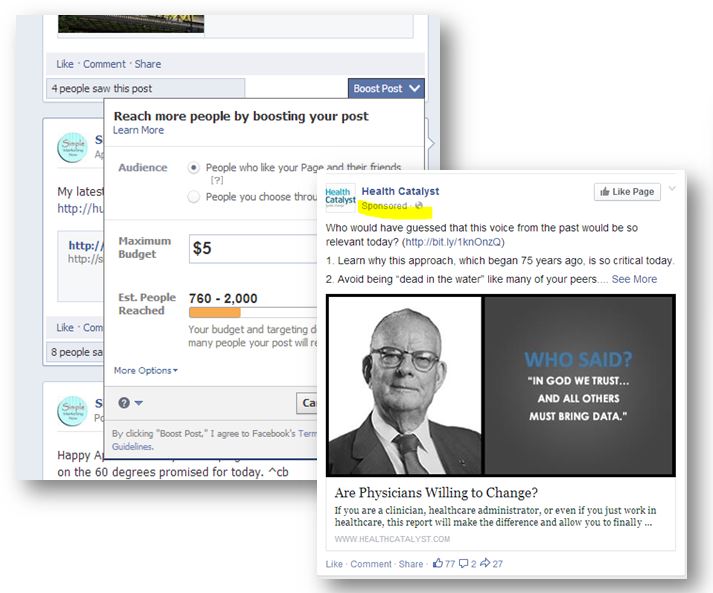 When you are getting started, consider focusing on 'people who like your page and their friends.' The reasoning: you've expended resources to get more Likes; cement the relationship by exposing those new likers to your brilliant and engaging Facebook content.
Again, start with the lowest possible amount ($5).
To select a post to boost, pick one that has already generated some organic interest. Look at the data about post reach in your data manager at the top of the Facebook Fan page you manage. Pick one, relatively recent, with strong reach numbers and which isn't time sensitive. In other words, if your Happy Memorial Day update has good numbers, don't pick it to boost after the holiday.
Then, start testing different types of updates to your fans.
Want to connect with customers using Facebook - with or without Facebook Ads? Follow this advice!
If you need ideas on what kind of content to test on your Facebook Fan page, here are some ideas and resources:
How to Increase Fan Engagement on Your Facebook Page from Amy Porterfield who reminds us that "engagement is your trump card" on Facebook. She recommends:
#1: Understand How Facebook Engagement Really Works
#2: Guarantee Your Fans Will See Your Promotional Posts
#3: Craft "Action-Worthy" Facebook Posts
She ends the article with,
"One more thing: It doesn't matter how many fans you have on your Page. Engagement is engagement. Meaning if you post something that gets a big spike in likes, comments, shares or clicks, PAY ATTENTION. Do more of what's working for you and you will begin to see your engagement and reach climb quickly!"
7 Powerful Facebook Statistics You Should Know About: Not just when to post on Facebook, but also what kinds of updates generate more engagement. More specifically,
1. Photo posts get 39% more interaction
2. Shorter posts get 23% more interaction
3. Using emoticons increases comments by 33%
4. Engagement rates on Thursday and Friday are 18% higher
5. Question posts get 100% more comments
6. 35% of Facebook fans like a page so they can participate in contests
7. 42% of fans like a page to get a coupon or discount
Be sure to read the entire article which includes terrific examples and charts.
Have you experimented with Facebook ads? How are you using Facebook ads to connect with customers? What advice would you share with us?