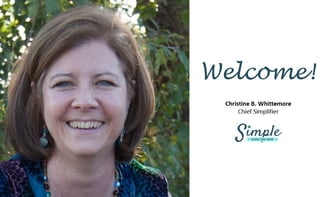 Welcome to Simple Marketing Now's Content Talks Business Blog!
I'm eager to share with you in this forum ideas on how to get found in a digital marketplace -- a topic that comes up frequently when I speak with small and medium business owners.
Digital change is happening
They've noticed that the traditional tried-and-true ways of connecting with customers no longer work as effectively as they once did. They realize that their website is a lot more important than it used to be (i.e., it's your business' 24/7 digital version of your office, showroom or store) and aren't quite sure how to attract visitors and prospective customers to it.
These business professionals see digital change happening and aren't always sure what do do about it.
Is it the same for you?
Do these online business frustrations sound familiar?
In addition to wondering how to attract more traffic to their website and generate more leads for their business, many wonder about these kind of online frustrations:
Updating their website and marketing strategy to keep up with changing times
Figuring out how to get started with marketing automation
Successfully implementing HubSpot inbound marketing automation software
Integrating social media marketing into the overall marketing mix
Developing and implementing a content marketing and inbound marketing strategy
Managing Google Adwords and Facebook Advertising
Sometimes it's more curiosity than frustration. If other businesses have seen success with the various social tools available (e.g., Facebook, Twitter, LinkedIn, Instagram, blogs...), how might their business apply them? At the same time, they aren't quite sure how to proceed with them and manage social media marketing, digital marketing or even content marketing to support the use of those tools. It's a lot to figure out.
In many cases, business professionals are so busy running their own business and fighting all of the fires associated with the day-to-day, that they have no idea whether their website and its content are working as hard as they should on their behalf, let alone add on other digital elements.
Does this sound familiar to you?
Exploring solutions to digital and online marketing frustrations
The Content Talks Business blog builds on what I've learned writing Flooring The Consumer (originally launched in 2006 on Blogger] and the Simple Marketing Blog (launched in 2009), working with business professionals like you and figuring out how to integrate the intense pace of changing digital technology with day-to-day business. It shares with you my passion for the customer experience and simple, practical marketing solutions that focus on substance rather than flash.
Sometimes these consist of making better use of the tried and true and other times of implementing cutting edge software solutions, such as HubSpot.
Here are some examples:
>> Check out what my marketing stack consists of.
>> Read What is a Landing Page and How Does it Work?
>> SEO Tips: Having Fun with Title Tags and Meta Descriptions
Be mindful of the rules for this blog
As I detail in Welcome To The Simple Marketing Blog, what I publish in these blog posts represents my views. I encourage you to respond, add comments, make suggestions and even disagree - with one caveat:
Please keep comments relevant to the conversations taking place, maintain respect for all those involved and contribute value and depth to the discussion.
I moderate comments and will quickly remove (or not publish) any that are offensive, disrespectful or irrelevant. Please don't bother commenting to advertise or promote yourself; those are particularly tiresome.
One more observation, please don't post private information in this public forum.
You can learn more about me, by reading Meet Practical Marketer, Christine B Whittemore and visiting Meet The Simplifier.
Thank you for reading, visiting and being part of this Content Talks Business conversation.
Best,
Christine B. Whittemore
Chief Simplifier