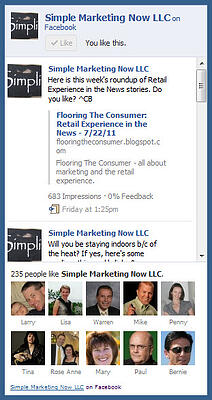 In many ways, Facebook is the perplexing social network particularly for businesses. Participation requires a Facebook personal profile. That means mixing personal and business - which many shy away from.
Although the administrator role for a Facebook fan page offers separation between the two, ultimately using Facebook for business successfully starts with a robust and active personal profile and involves interacting with fans' personal profiles.
Consequently, I offer you the four following reminders.
Decide what your personal Facebook policy is.
Are you on Facebook for business, for family reasons, for a mixture of the two? Decide how you plan to use your Facebook personal profile. Set a policy for yourself ahead of time so you can decide how to respond to requests to be friends from people who 'like' your business or whom you never liked - even in 3rd grade. [For example, read Facebook & Social Media Wednesdays, Kinnelon Library.]
Check your Facebook Privacy Settings.
Decide what you are willing to share with whom. Do you really want your birth year listed on your profile? What about your relationship status?
If you have questions about your Facebook personal profile, you may find this All Facebook Facebook Tutorial: How to Create a Facebook Profile helpful as well as Facebook 101 for Business: Your Complete Guide. For privacy settings, see Facebook Privacy Tips: 9 Settings To Check Now.
Facebook can be a complex environment to navigate through.
Even though 750+ million people of all age ranges and levels of computer-savviness have figured out how to use Facebook, it's still convoluted to navigate through and not always intuitive. Frequent redesigns of the interface don't help, either. What that means is the more comfortable you are using Facebook on a personal level, the easier it will be for you to use Facebook for business.
Plus, when you get your Facebook fan page started, your first invitations to 'like' your page will be going to your family and friends... It helps to have at least 25 so you can claim your Facebook fan page vanity URL!
Facebook for Business means being human!
Dare I say it? Facebook is about being human, showing a sense of humor, loosening up... You will need to engage with your fans [aka likers], interact with them, welcome them, thank them, respond to their questions, ask them questions, be quirky, post photos [with people in them], and things of that nature. It also means that you shouldn't automate your interactions or updates.
You can certainly delegate interactions to others, but if you value your customers and fans, you'll want to put in an appearance and genuinely interact. I guarantee you'll notice the benefit - not least of which will be a greater likelihood of appearing in your fans' newsfeed! [See my previous post titled: Facebook Marketing for Business Tips: MarketingProfs B2B Forum 2011.]
For ideas on how best to interact, check out 20 Expert Tips for Better Facebook Marketing.
Your turn, now. What do you worry about when using Facebook for business? How comfortable are your employees in helping support and promote your Facebook fan page updates? What about your customers? How do you respond?
Let me know in the comments.