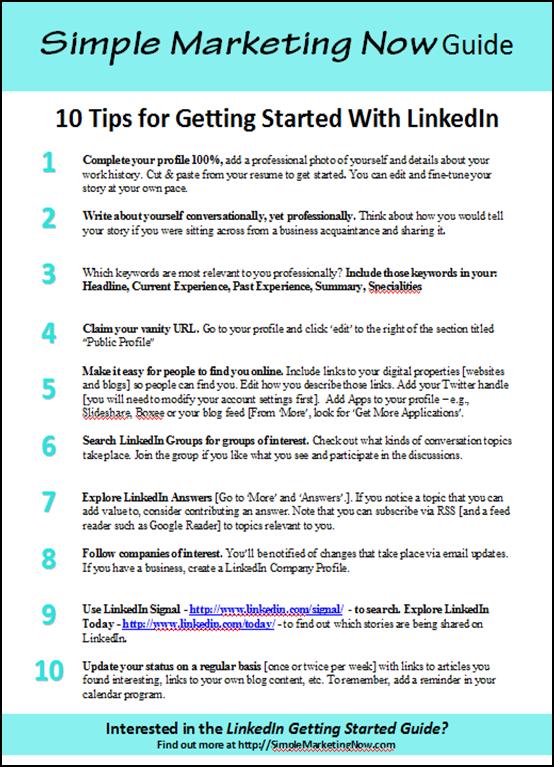 Are you ready to get started with LinkedIn for business?
In 'How Do I' Social Media Marketing Series, I mentioned Tip Sheets and Guides based my How Do I social media marketing series to help busineses make sense out of the chaos inherent to this wildly fluctuating digital and social world. In this post I share with you 10 Tips for Getting Started with LinkedIn and a LinkedIn Guide.
Brief LinkedIn Overview
LinkedIn is a professional social network. It launched in 2003, and now claims over 100 million members [as of March 2011] in over 200 countries in all 7 continents. As important as LinkedIn is for business, it's surprising how many profiles are incomplete or could be stronger. Have you checked yours lately?
My 10 Tips for Getting Started With LinkedIn
1. Complete your profile 100%, add a professional photo of yourself and details about your work history. Cut & paste from your resume to get started. You can edit and fine-tune your story at your own pace.
2. Write about yourself conversationally, yet professionally. Think about how you would tell your story if you were sitting across from a business acquaintance and sharing it.
3. Which keywords are most relevant to you professionally? Include those keywords in your: Headline, Current Experience, Past Experience, Summary, Specialties
4. Claim your vanity URL. Go to your profile and click 'edit' to the right of the section titled "Public Profile"
5. Make it easy for people to find you online. Include links to your digital properties [websites and blogs] so people can find you. Edit how you describe those links. Add your Twitter handle [you will need to modify your account settings first]. Add Apps to your profile – e.g., Slideshare, Boxee or your blog feed [From 'More', look for 'Get More Applications'.
6. Search LinkedIn Groups for groups of interest. Check out what kinds of conversation topics take place. Join the group if you like what you see and participate in the discussions.
7. Explore LinkedIn Answers [Go to 'More' and 'Answers'.]. If you notice a topic that you can add value to, consider contributing an answer. Note that you can subscribe via RSS [and a feed reader such as Google Reader] to topics relevant to you.
8. Follow companies of interest. You'll be notified of changes that take place via email updates. If you have a business, create a LinkedIn Company Profile.
9. Use LinkedIn Signal to search. Explore LinkedIn Today to find out which stories are being shared on LinkedIn.
10. Update your status on a regular basis [once or twice per week] with links to articles you found interesting, links to your own blog content, etc. To remember, add a reminder in your calendar program.
You can download the formatted version of my 10 Tips for Getting Started With LinkedIn by clicking on the link.
Using LinkedIn for Business: a Guide
If you'd like more detail, consider downloading my 12 page LinkedIn Guide. It's filled with details on LinkedIn's features, offers advice on how to strengthen your profile and details examples and ideas on how to use LinkedIn for business.
Simply click on Simple Marketing Now's LinkedIn Guide. You'll be taken to a landing page where you can download the 12 page guide after entering your email address.
LinkedIn is evolving - as is how we use it. How are you getting value out of LinkedIn? What have you found most fascinating? Have you tried mapping out your LinkedIn connections?