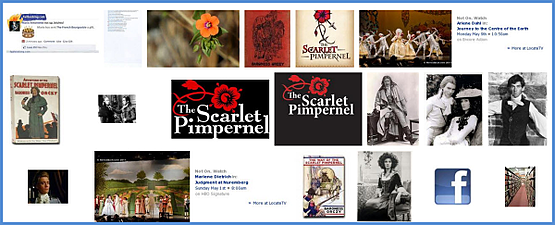 In Using Facebook for Business Starts With Your Personal Profile, I referred to Facebook as perplexing. In thinking about this post, and how to optimize or improve the digital visibility of your Facebook Fan Page, what came to mind repeatedly was "that damned elusive Scarlet Pimpernel!"[who has this Facebook Fan Page and this one as well as this community page and this other one - I'm skipping the lesser pages. Did you have any idea there were so many?]
After all, if a business intends to spend time on a social networking platform such as Facebook, it would be beneficial - to say the least - to be assured of some benefits for all of the effort that goes into creating and posting content to Facebook, monitoring interactions and generally making visitors or Fans feel welcome. Right?
That's where optimizing or improving your Facebook Fan Page's digital visibility comes into play - or as much play as Edgerank allows...
Here, then, are two articles which offer suggestions.
5 Quick Ways To Improve Your Facebook SEO makes a strong case for a Facebook Fan Page Welcome Tab for new visitors to your Facebook Fan Page to "help shape their experience and make sure the search engines are getting a keyword-rich page to spider." [Once resource worth checking out is lujure.]
The article also recommends writing descriptive keyword-rich content about your business in the About Box and the Info Tab. Don't forget to include links to relevant sites.
I found the last section about Build Links To It particularly insightful. Links matter for Facebook SEO and digital visibility, both off-site and within Facebook.
Increase the number of fans and you increase links to your Facebook Fan Page.
Off-site, it's important to link to your Facebook Fan Page from your website, blog and other sites.
How to optimize your Facebook Fan Page explains that in "Facebook search is based on exact match and is populated based upon a user's connections." It's important then to obtain that vanity URL asap and to list your name as potential customers search on it!
The article suggests interacting with other Fan Pages since "...commenting on other relevant Fan Pages will connect you with that Fan Page and their users. This increases the amount of connections you have with other users and thus increases your chances of appearing within Facebook search."
Remember that Facebook is about appearing in the ever elusive and highly customized Newsfeed.
And, according to recent research, Facebook Marketing: Newsfeed Impressions Matter More Than the Number of Fans...
What has your experience been with your Facebook Fan Page? How have you increased your visibility? Has success been as elusive as the Scarlet Pimpernel? I'd love to hear in the comments.
If you haven't already, become a Fan of Simple Marketing Now on Facebook. There's even an offer for you if you do :-)...