Have you attended a MarketingProfs event? If you haven't, you should. You'll be inspired, grounded and surrounded by brilliant B2B marketers who share wisdom worth taking home and applying immediately, and plenty that will percolate until the time is right to integrate it into your business and marketing strategy!
For example, during MarketingProfs B2B Forum 2011, I discovered new appreciation for marketing content and the power of words thanks to Nancy Harhut who discussed Human Behavior & Marketing Response: 13 Choice Drivers To Consider. Think how important words are to our online behavior and yet, rather than focus on persuasion, we've crudely focused on mechanics for the benefit of search engines [e.g., JC Penney]. Imagine the evolution ahead as we refocus on words for communication and conversion.
Speaking of which, Storytelling in Business: Ardath Albee & Contagious Content had me thinking about persuasive B2B marketing content.
This event's keynote speakers included Guy Winch, Sandy Carter and Nancy Duarte.
Guy Winch, author of The Squeaky Wheel: Complaining the Right Way to Get Results, Improve Your Relationships, and Enhance Self-Esteem [see blog interview: Guy Winch: How to Complain & Get Results - The Squeaky Wheel], addressed How To Build WOM From Complaining Customers - MarketingProfs B2B Forum 2011.
Sandy Carter discussed the next evolution in business: social business. See Sandy Carter Gets Bold at MarketingProfs B2B Forum 2011.
[Nancy Duarte, I unfortunately missed, but I look forward to hearing her speak in September at the Hubspot User Group Summit. Luckily, two of the links I share with you below recap highlights from her presentation.]
I've shared with you on this blog the following two posts:
You'll definitely appreciate these next posts.
Leigh Durst conducted a website makeover session and shares slides and perspective on the B2B Forum: Marketing Profs B2B Forum - Follow Up & Slides!
Mack Collier shared an in-depth summary of the event in Review: 2011 B2B Forum in Boston. Nothing is missing!
Mack brought to 'real-life' his popular #Blogchat Twitter Chat during the B2B Forum and recaps it in Review: #Blogchat LIVE at the B2B Forum. These are my photos which don't come close to capturing the interaction taking place.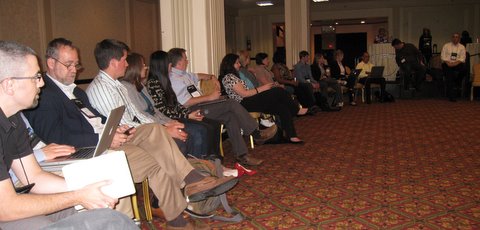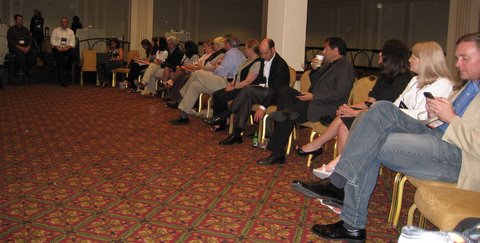 Some additional perspectives on the event:
Intense learning and plenty of B2B marketing wisdom, don't you think? If you attended, I'd love to hear your reactions.
And, if you didn't, I'd love to hear what you find most interesting in these highlights I've listed... What would you like to read more about? Let me know in the comments.