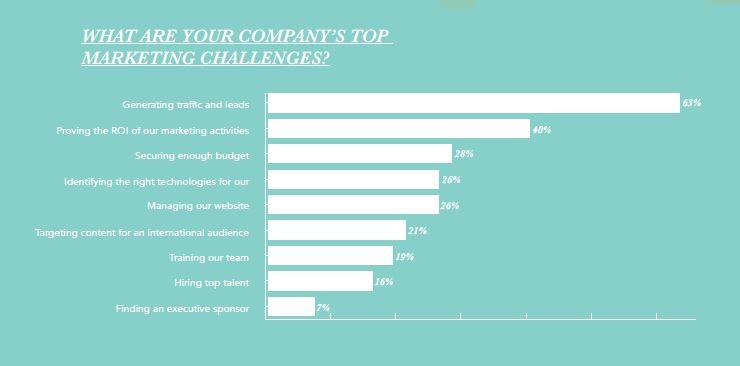 Are you wondering how to generate more traffic to your website and identify more leads? If you are, you aren't alone. According to the 2017 State of Inbound Report, 63% of marketers say their top challenge is generating traffic and leads.
And a good solution to that challenge is to generate traffic and leads through inbound marketing as the charts in this article support.
You see, inbound marketing recognizes that potential customers start the purchase process at a search engine window, looking for content and information on your website and in your blog that answer their questions, educate them and allow them to qualify their level of interest in a product or service.
If your business isn't visible online, showing up in search results that relate to the services you offer, you have a problem. Customers are online as never before, and they are more than comfortable researching and learning about solutions on their own before they will even consider speaking to anyone in your company. If they can't find you online, you don't exist.
>> See Inbound Marketing and ZMOT: Perfect Together?
10 Reasons with Charts for Becoming Immersed in Inbound Marketing
If you're not sure yet about inbound marketing, here are 10 visual reasons for pursuing it. They relate primarily to your critical online content tools: blog articles (think of your company blog as your company's own publishing platform) and the lead generation offers that your articles and website content promote.
1. Blog articles influence purchases.
As you can see from the chart below, blog articles provide the kind of information that educates and explains, helping readers understand and refine product choices, decide on solutions, find answers to questions, and more.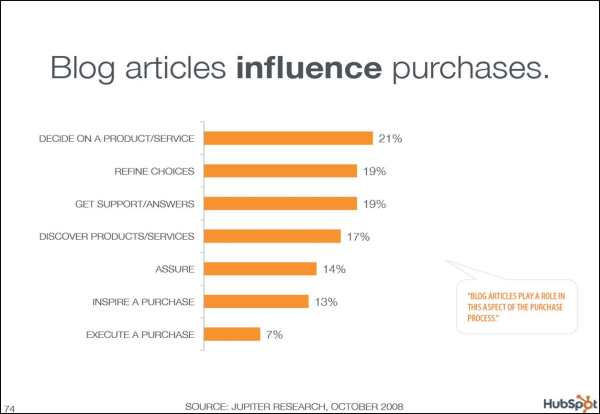 Back in 2011, Google conducted thought-provoking research about the buying process and the customer journey. They referred to the project as ZMOT or the Zero Moment of Truth, identifying online information resources as not only critical, but also as happening before any of the traditional moments of truth (e.g., point of purchase).
According to SEO & The Zero Moment of Truth,
"The Zero Moment of Truth was initially conceived on the back of a study conducted by Google in 2011. The study determined that the customer journey is changing:
50 percent of shoppers used a search engine to research a product or brand.
38 percent comparison shopped online (reviews, prices and so on).
36 percent checked out the brand/manufacturer's website.
31 percent read online endorsements, reviews or recommendations."
The journey has changed not just for consumers but also for B2B customers who look for online content - much of which is blog related - for critical awareness, consideration and even decision-stage information.
That inbound marketing content must be accessible via mobile devices (highlighting the importance of ensuring your website is responsive and that your content is mobile friendly and even AMP-enabled as this article is), too.
According to 10 Insights on Social Media and Blogging Influence: New Research and Blogging Statistics: 52 Reasons Your Company Blog is Worth the Time & Effort, blogs have significant influence on purchase decisions and are one of the top online services to influence a purchase.
Here's added (visual) perspective on the relevance online and blog content from HubSpot's Research Report on the Future of Content Marketing.
Notice the important role that searching for relevant content on search engines plays and how dramatically it has grown.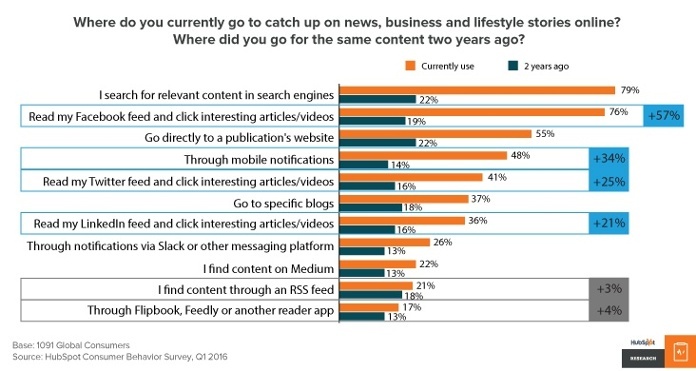 2. Companies that blog have 55% more website visitors.
Blogs create dynamic web content. What that means is every time you publish a blog article, you create a fresh new page on your site which, in turn, signals to search engines spiders that you have something new and delicious worth checking out. New content says that your website (aka your 24/7 digital office space) is alive and active.
So if your company makes use of a blog associated with your website domain - and commits to publishing quality content regularly and consistently, you will see ~55% more visitors to your website than if you didn't publish blog articles.
Each new blog article represents an opportunity to share with prospective customers content that educates them, introduces them to your company and your solutions and starts the relationship-building process.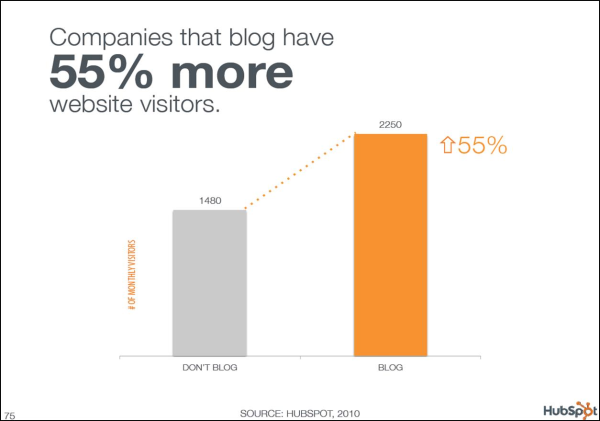 3. Companies that blog have 434% more indexed pages.
If your company publishes blog articles, it will have on average 434% more indexed pages than if it didn't.
This is the flip side of the previous point. Not only does a blog create dynamic - or consistently fresh - content on your website, but every individual blog article you publish represents an unique web page waiting to get indexed!
Each unique page that gets indexed represents an additional opportunity for your content to appear in search results - especially if your content is high in quality and relevance to your prospective customers.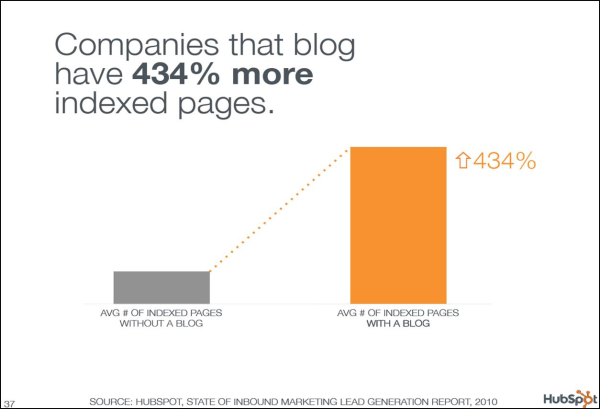 4. Companies that blog have 97% more inbound links.
Links from other sites to your website generally communicate relevance, value and trust to search engines, and in turn to searchers.
When you commit to creating and publishing remarkable, delicious, noteworthy and relevant content, then others will link to it. The best example of this is Wikipedia. It is so helpful, educational and often exhaustive about a topic that it appears very high in search results.
As Marcus Sheridan aka The Sales Lion has remarked, if you focus on serving your customers and answering their questions via your blog, you will have content that others consider valuable and will link to. If you worry that you don't have anything to write about on your company blog, focus on the questions your customers have throughout their buyer journey. You will definitely provide them with value.
>> See A Revolutionary Marketing Strategy: Answer Customers' Questions

5. Companies with more indexed web pages get way more leads!
Ultimately, you're in business to generate leads. The most effective way to transform your website into a source of leads is by having more indexed web pages which show up in relevant searches.
By publishing high quality, relevant blog articles on a consistent and regular basis, you ensure that you have more web pages that are indexed.
The more your web pages get indexed by search engines, the more likely your business is to get found by potential customers. The more compelling your content title, description and content is, the more likely those visitors will click on your search result link, go to your website, be transfixed by your content and ultimately opt-in to the offer your content promotes, thereby becoming a lead.
In short, the more indexed web pages your website has, the more leads you will generate.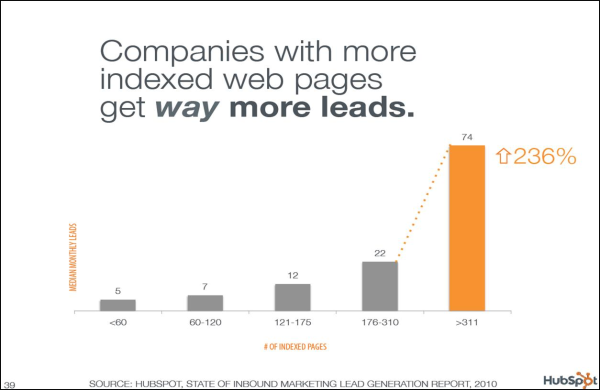 6. B2B companies that blog generate 67% more leads per month than those that don't.
If you think of your company blog as a publishing platform, you realize that - just as it is for a news publication - buying into a regular and consistent schedule (e.g., every Tuesday at 8:30am) means that you train search engines and readers to expect your news at that time. The result: approximately 67% more leads per month that if you didn't.
If your content has been carefully crafted with your customer personas in mind, and addresses their questions and concerns, then the leads you generate will be considerably better qualified and more knowledgeable about your company and the solutions you offer. You'll notice that they spend more time on your website consuming your content and ask better questions.
A persona by the way is a semi-real representation of your ideal customer, taking into account what you know about existing customers combined with market research and industry data. A persona helps your business focus on what's relevant to that type of customer. You may have several customer personas.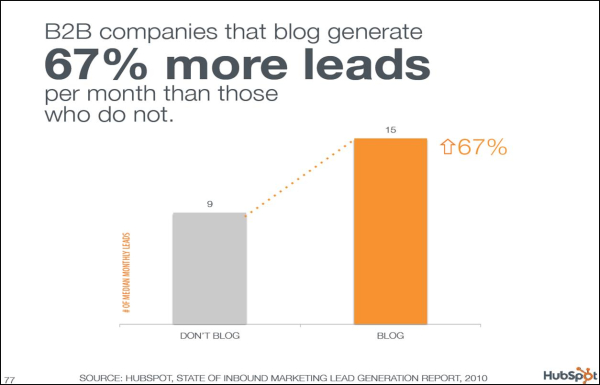 7. Companies with more than 51 blog articles experience a 77% lift in median monthly sales.
When you first get started with your inbound marketing blog, you won't notice immediate changes. That's because you need to build momentum - and a base of credible published content.
Generally, nothing happens until you reach the 24 article mark. True momentum happens at the 50-51 article market when you start to see a significant lift in website traffic, as you can see in the two charts below.


(For more detail on these two charts above, check out 11 Signs of Inbound Marketing Success.)
With that traffic lift comes an approximate 77% lift in monthly leads assuming you associate content offers with your articles.
The biggest lesson for you if you haven't yet started to publish blog articles? Get started! The sooner you get started with blogging and inbound marketing, the sooner you'll get to the point where results happen!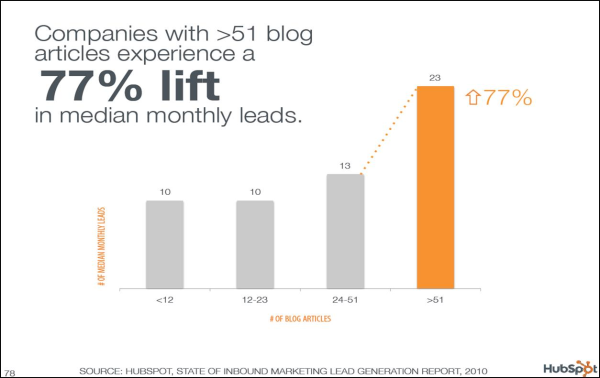 According to 24 Little-Known Blogging Statistics to Help Shape Your Strategy in 2017,
"45% of marketers say blogging is the #1 most important piece of their content strategy. Between lead generation, brand awareness, SEO, and thought leadership -- there are few areas of marketing that don't benefit from blogging."
8. The number of blog articles published affect the number of monthly leads.
Generally, the more [delicious, relevant and remarkable] blog articles you publish on a regular basis, the more you will notice an effect on the leads you generate. (See #7 above.)
The watchout, though, is that quality trumps quantity. So don't take shortcuts. Commit to being mindful about what you publish and how it relates to your prospective customers.
Doing so, as The Top 10 Benefits Of Blogging On Your Website details, will benefit you by:
Increasing search engine traffic
Humanizing your brand
Supporting your social media initiatives
Building authority and thought-leadership in your industry
Improving conversion rates
Generating inbound links
Helping you rank for long-tail search queries (i.e., multiple word search queries)
Increasing leads
Facilitating valuable discussion
Allowing you to achieve 'freshness' for your website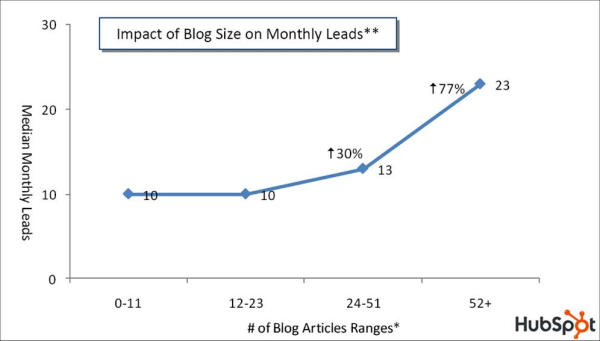 9. Web Pages and Traffic: the more content you create, the more traffic and leads your business will see.
Publishing blog content on your website on a regular and consistent basis reflects how alive your business is, how engaged it is in your industry. The more content you create on your website and blog, the more you will notice web traffic increase as well as leads.
This becomes even more critical with the explosion of online content. When you don't participate, you either give up the opportunity to build your company's online presence or lose any kind of first mover advantage. When you do with quality content, you get to differentiate your business organically over time.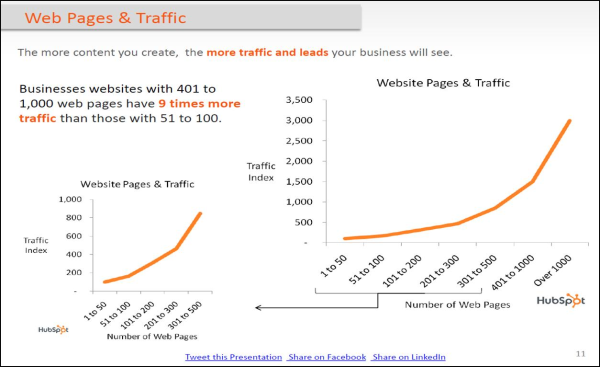 10. Web Pages and Leads: Businesses with websites that have 401 to 1,000 webpages have 6 times more leads than those with 51 to 100.
Finally, all of that published content means that you build a body of webpages gradually over time. As you grow those pages from a handful to 500 and 1000, you will notice leads increasing as you can see in this last chart.
The more webpages you have, the more leads.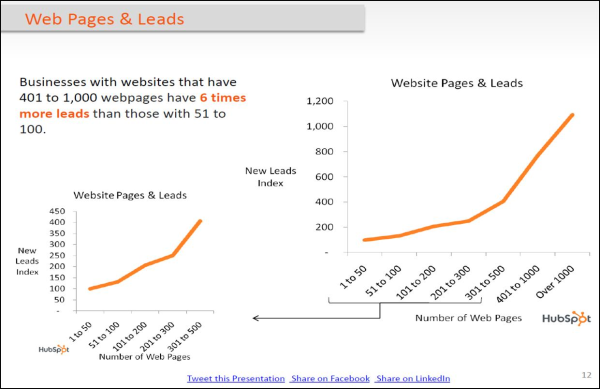 Content Quantity vs. Content Quality
A special note about content quantity and quality. This article was originally published on 9/21/11 and content creation has evolved considerably and so has the quantity of it. As Bobby Lehew mentions in his comment below, "the noise is deafening" and growing.
Blogs and inbound marketing continue to be effective. However, keep in mind the following new trends:
Don't forget to include plenty of white space, section headers, images, videos, etc. to bring a topic to life and help a reader skim through an article for meaning.
Finally, keep an eye on the development of Topic Clusters: The Next Evolution of SEO where "the key is to think of your content assets in terms of topics you want your business to compete in, rather than discrete keywords. The keywords can still play into your overall strategy, but topics are now the umbrella under which your keyword strategy operates..."
Are You Ready to Pursue Inbound Marketing?
What's your reaction to these 10 visual reasons for pursuing inbound? What have you observed in your own online activities? Are you ready to do it?
Note - this article was originally published on 9/21/2011 and has been significantly updated.
Chart credits:
The Future of Content Marketing