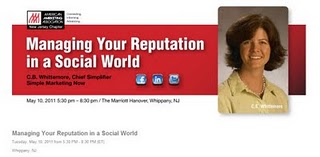 Just today, I was discussing managing online reputation with friend, colleague, and Bathroom Blogfest [which is coming up at the end of October] co-conspirator Susan Abbott.
[Also check out Susan's deliciously thoughtful blog Customer Experience Crossroads about creating branded consumer experiences.]
From what I've observed, if you can't be found online, you don't exist! As harsh as that may sound, it isn't too far from the truth especially when you consider the effects of ZMOT. Do you agree?

As Susan shared with me the premise for her upcoming presentation for the QRCA's 2011 annual conference, I thought back on the presentations I've given this year about managing your reputation in a social world:
and the article I wrote for Content Marketing Institute titled
How To Manage Your Online Reputation
.
What I love most about the unprecedented times in which we live is how we have access, for ourselves and our businesses, to amazing digital tools for building an online reputation and getting found online. Think about it: LinkedIn, Google Places, Google for visibility, websites, blogs, social networks and more! The options are exciting, empowering, but also perhaps intimidating.
What do you think?
Are you participating via these tools?
Are you monitoring what comes up for your name and your company name via Google alerts, Board Tracker and Twitter search?
How do you go about listening intensely to your communities? [I use eCairn Conversation.] Are you interacting in the conversations?
Have you examined your existing online presence and assessed how effective it is?
Have you established social media guidelines for your interactions online including for Facebook Fan pages and LinkedIn groups?
What are you finding most effective?
Let me know in the comments.