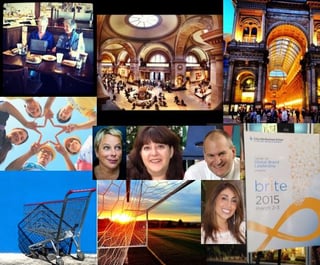 Would you agree that, at the heart of everything in business, is the customer? I'm reminded of how important customer-focus is as I review the top 15 Simple Marketing Now blog articles of 2015. Each takes a different perspective on that theme while offering thought-provoking ideas and examples to inspire your own marketing.
(Special thanks to #BRITEconf for many of these examples.)
These articles come from all three blogs on this website. I've organized them into the four following categories so you get a taste for what gets us excited. I hope you enjoy them.
Blog interviews with brilliant marketers
Customer experience insights
Content marketing ideas and best practices
Articles focused on measurement and analytics
4 Blog Interviews With Brilliant Marketers
If you are serious about interior design and have a presence online, chances are you know Veronika Miller and are familiar with Modenus.com, the company she founded in 2008...
Meet Arpi Nalbandian, founder of Tileometry and the first person in the flooring and tile industry I met first through Twitter. Arpi is extremely knowledgeable about tile and social networking for business and combines the two in her business...
Jacqueline Tabbah, Assistant Vice President of International Stoneworks and member of the Marble Institute of America's Women in Stone program is intimately involved in helping her company get found online. She does so using digital marketing tools and social media, as well as her company business blog...
I need to share a business story with you about storytelling the business way. It starts out this way...
Once upon a time, there was a really gifted storyteller. His name was Ron Ploof. Every day he found a reason to tell stories to help others understand things better. Then one day, he decided to take on Project Lizzie to tell the story of someone who lived 100 years ago based on 99 postcards. Because of that, he connected the dots between his own storytelling story. And because of that, he realized how important it is for businesses to have the right tools for story telling. Until finally, he created the StoryHow™ PitchDeck to teach business communicators how to transform their messages, ideas, and presentations into memorable stories so they could finally stand apart from the noise, connect with customers and live profitably & happily ever after...
4 Articles Focused On Customer Experience Insights
Have you noticed how connecting with customers has gotten more challenging? Gone are the days when brands called the shots, considering themselves the only experts. Consumers rule. Not only do they have infinite options, but they are digitally savvy, have access to knowledge and want to participate in the brands they care about. As marketers we must learn how to market in a world of demand...
Whether you are a physical retailer or an ecommerce based one, location matters. That's according to David R. Bell from Wharton, author of Location is (still) everything: why the real world matters for e-commerce, who presented findings from his book at #BRITEconf 2015. Note, though, that it's location with a twist: think location of the customer...
Have you been wondering how you might improve the customer experience your business offers? Here are 5 steps for doing so starting with your digital marketing.
I'm focusing here on digital marketing because even though your customers will -most likely- purchase from your physical store location, they will definitely start their purchase process online, searching and educating themselves before ever reaching out, contacting you and asking questions. The more you improve your digital customer experience, the better your chances of getting found online by your prospective customers...
If you're not personally active with social media, how do you figure out which social network to focus on for your business?
After all, there are so many social media networks and you can't possibly do them all. You don't want to, either, since that would either send you to the loony bin or distract you completely from running your business. At the same time, there's plenty of noise trying to guilt you into jumping on the social bandwagon...
5 Content Marketing Ideas & Best Practices
If you have an ecommerce website, what do you do when your shopping cart gets abandoned? Do you use email marketing?
If you don't, you should reconsider...
Great content matters intensely for your website and your business blog.
Despite talk stating that no one reads, everyone scans and no one has time for more than a tweet or a photo snack on Instagram or Facebook, people do. Including you...
Sometimes, it takes thinking through mistakes to really understand best practices. In this article, I'll focus on landing pages mistakes and highlight the 13 biggest ones to avoid...
What strikes me as powerful in Mack-Cali's integrated marketing approach for Harborside, the development in Jersey City focused on attracting businesses and their workforces to work, live and hang out, is how important a role collaboration plays. That's what makes it such a terrific marketing case study example!
Why? Because it's not just about the buildings. It's about what's possible as a result of the buildings being where they are...
When's the last time you visited the Met - virtually or in person? There are social media marketing lessons to be learned from those interactions as Sree Sreenivasan shared during #BRITEconf 2015.
The Metropolitan Museum of Art in NYC is an amazing institution. It has history, remarkable works of art, endless cultural icons in a setting that brings ancient worlds to life, helps you understand context and generally elevates the soul. However, the Met has also had to figure out how to translate all of that culture in a way that captures people's attention and engages them...
2 Articles Encouraging You To Focus on Measurement & Analytics
Have you set up SMART marketing goals for your business?
SMART stands for Specific, Measurable, Attainable, Relevant and Time-Bound. SMART goals are possibly the most effective way of focusing attention and making things happen in your business.
When combined with inbound marketing principles, SMART goals are a sure way of delivering on ROI. They force you to think deliberately about your actions and how they relate to the results you're trying to achieve. SMART goals help banish delusion-driven marketing...
So you've picked a social network or two to focus on for your business. (See How To Pick Which Social Network To Focus On For Business?) How do you know if your networking efforts are working? Let's explore...
Happy Holidays from Simple Marketing Now!
What do you think of these top 15 articles?
May 2016 bring you intense customer-focused inspiration and brilliant content marketing ideas!