The question "how do I get more business?" comes up frequently when I speak with small and medium business owners.
They find that many tried and true marketing tools aren't as effective as they used to be and many new social and digital tools are confusing. What, then, to do to get more business? Here are 13 tips to start the ideas flowing! I bet you have more!
13 Tips in Response to How Do I Get More Business?
1. Launch a business blog on your website.
2. Generate high quality blog content frequently and consistently.
3. Create content that answers questions relevant to your potential customers.
4. Make sure your content uses your reader's language, contains no gobbledygook [if you aren't sure, read David Meerman Scott's Gobbledygook Manifesto and then run your content through the Jargon Grader (sadly, the Gobbledygook Grader is no longer active) and reads conversationally.
5. Are your blog topics relevant to your business? Do they include keywords that matter to you?
6. Regularly mine your Google Analytics to understand which search terms or keywords potential customers use to find you. Create new content or blog topics that develop those ideas.
7. Use Google Trends to come up with new ideas based on those terms.
8. Use Google Adwords Keyword Tool to identify which are the highest and the lowest volume search terms to help you prioritize which customer relevant terms to create blog content around that you can eventually rank for. Be thinking 'long tail' for your terms. [Here's a marvelous reference from ProBlogger: Leverage the Long Tail of Search on Your Blog.]
9. Monitor your site's progress on your keywords using SEOBook's Rank Checker tool for Firefox.
10. The more blog content you create, the more keywords other than your company name will drive traffic to your website and business.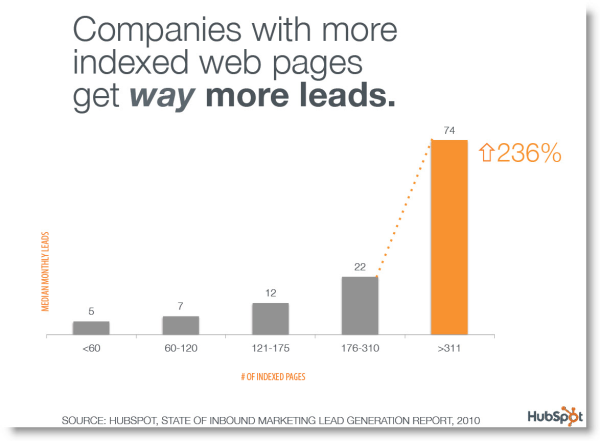 11. Once you create between 25 to 50 blog articles, you'll start to notice improved traffic results to your website. For companies that blog twice per week, that will be at around the six month mark. The more qualified content, the more indexing and the more traffic which in turn generates leads for your business.
>> See What Results To Expect When Starting a Blog
12. Combine your blog publishing with social by promoting your new content on social networks you are active on [e.g., Twitter, LinkedIn and Facebook]. Be sure to engage with your audiences so they perceive your content as valuable rather than as spam.
13. Monitor your results. Do more of what works. Change what doesn't.
>> See How Website Analytics Can Inspire Your Inbound Marketing
>> See How Website Analytics Helps Your Business
What are your tips for getting more business? Let us know in the comments.
Thanks for reading!