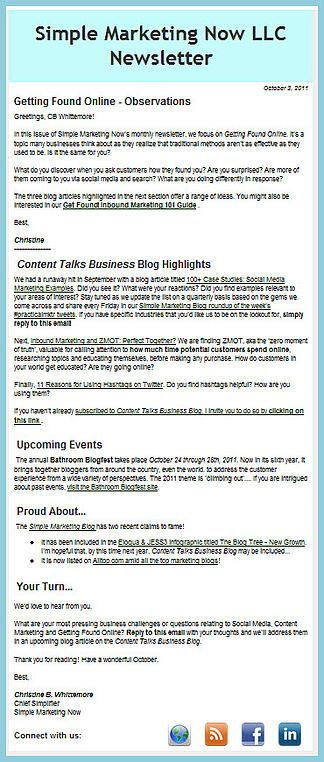 Hot off the press: the October 2011 issue of the Simple Marketing Now Newsletter. It focuses on getting found online.
You can receive it directly by subscribing to our monthly mailing list.
I'll share with you here a few highlights as they may inspire ideas...
It shouldn't be a surprise to any of you reading this blog that I consider the topic of how to get found online critical. If you have doubts, send me an email. We need to talk.
What I find most fascinating when I speak with business owners is finding out what they have been doing to connect with customers, and what they are considering doing. Many of their tried and true ideas aren't as effective. Digital ones hold potential, but the learning curve is steep!
What have you noticed in your markets? What works and what doesn't? How have your customers changed? What digital tools are they using that they didn't before?
What are you doing differently in response?
Here follow a few ideas to inspire you.

From the Content Talks Business Blog:
Were you aware that 100+ Case Studies: Social Media Marketing Examples has attracted considerable traffic? What were your reactions to the article? Did you find examples relevant to your areas of interest?
[From a purely practical perspective, I've found the post valuable for locating social media ideas quickly.]
By the way, I anticipate updating the list on a quarterly basis based on the gems I'm finding and share every Friday in the Simple Marketing Blog roundup of the week's #practicalmktr tweets. Please let me know if there's a specific industry you are trying - without luck - to find examples from. Similarly, if you come across good examples of brands or companies using social media, please forward me the links and I'll include them.
The next blog article to draw traffic is Inbound Marketing and ZMOT: Perfect Together? Personally, I love this article and find inumerable excuses to refer to it. Beware the participants in upcoming seminars! You will be subjected to Zmot!
Seriously, though, what are you noticing in your markets? How do you get found? How do customers in your world get educated? Are they going online? Do they prefer mobile? How are you reacting?

The third most popular blog article is 11 Reasons for Using Hashtags on Twitter. What's your reaction to hashtags? Do you find them helpful? How are you using them?

Upcoming Events
The annual Bathroom Blogfest takes place October 24 through 28th, 2011. Now in its sixth year, it brings together bloggers from around the country, even the world to address the customer experience from a wide variety of perspectives. The 2011 theme is 'climbing out'.... If you are intrigued about past events, visit the Bathroom Blogfest site.

Proud About...
The Simple Marketing Blog has two recent claims to fame!
It has been included in the

Eloqua & JESS3 infographic titled The Blog Tree - New Growth. I'm hopeful that, by this time next year,

Content Talks Business Blog

may be included... :-)
It is now listed on

Alltop.com amid all the top marketing blogs!
Your Turn...
What are your most pressing business challenges or questions relating to Social Media, Content Marketing and Getting Found Online? Share your thoughts and ideas and I'll address them in an upcoming blog article on the Content Talks Business Blog.


Thank you!
Best,
C.B.