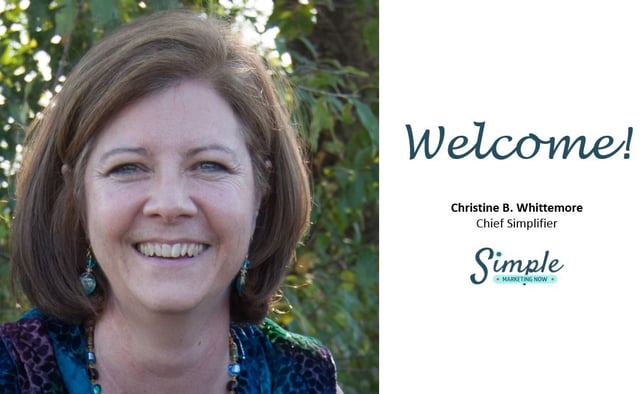 An interesting thing happens when you've been publishing blog articles for a long time. The people reading your content aren't always aware of what you actually do and what your business is about.
For that reason, I've created a short video to introduce you to Simple Marketing Now and welcome you to this website.
The video is an opportunity to provide you with perspective on how I got immersed in this business.
It goes beyond Welcome to the Content Talks Business Blog!
It briefly highlights information you'll find in About Us and Meet The Simplifier, including my first blog Flooring The Consumer which I launched in 2006 on Blogger and which now lives here on this site also as Flooring The Consumer (makes things simpler :) ).
If you're interested, it will draw you into exploring Simple Marketing Now Case Studies, where you can learn more about my first project redesigning a website for Wear-Dated in 2007 and 2008. That is when I worked in a corporate environment and used the experiences I gained from blogging (and exploring the online evolution of marketing) to launch a corporate blog and redesign a brand website. It embraced the principles of inbound marketing before inbound marketing really existed. Pretty cool, no?
Most importantly, the video will tell you how we can help you.
Our focus is on helping you get found online using inbound marketing and content marketing so you connect with your prospective customers. Sometimes that starts with a website redesign and other times simply with focusing on the basics such as making sure your website and online content are the best they can be and do what they need to do so you meet your goals.
When I first got immersed online, what excited me the most was how digital and social tools offered businesses a chance to connect with customers in a way that resembled classic relationship building (as in Dale Carnegie).
>> See Does Social Matter to Business? Social Media Bootcamp Highlights.
>> See Social Media - Corner Grocery Style!
The evolution of online marketing also provided them with access to technology-based solutions that had only be available to organizations with very deep pockets. Imagine being able to publish your own online publication (i.e., a blog) or issuing your own videos (i.e., YouTube) without a significant budget and/or a big staff - and building a community at the same time! Really cool!
Now, I get excited about the opportunity business have to bundle all of that plus analytics, marketing automation, contextual marketing and more into a web-based business base or hub that functions 24/7 whether you are physically in the office or not. Your website is the 24/7 digital equivalent of your office, store or showroom. It's available when it's convenenient to your prospects and enables them to learn at their own pace, in a way that's more efficient for you. That means that you can focus your attention on more meaningful conversations that happen because you've sufficiently impressed your prospect through valuable, consistent, and relevant content.
>> See How Customer-Focus Helps North Coast Packaged Homes Get Found Online.
>> See The Marketing Technology Paradox: People Matter More Than Ever!
That transforms your online presence (i.e., your business website) into a critical business asset which needs to work hard in support of your business. We would love to help you do that.
Watch the Welcome 1:56 minute Welcome to the SimpleMarketingNow.com websive video for yourself.
I'd love to hear your reactions to this video. What other topics do you recommend that I address in this format?
If you'd like to talk about content or inbound marketing, don't hesitate to contact me.
Thank you.
Best,
Christine